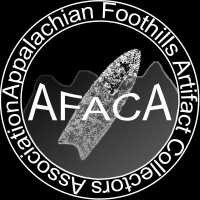 Our 2nd Anniversary Meeting of the
Appalachian Foothills Artifact Collectors Association
was held on December 6th, 2005
We had a good gathering with around 75 people in attendance during the course of the night!
Thanks to all who attended this milestone in our association!
Below are some photos from the night
There were many great artifacts at the meeting to view while enjoying our 2nd Anniversary of the AFACA

Speedy Denny provided a cake.

above: Chris Capley, Hayden Bybee, & Mitch Fink discuss an artifact.

at left: John Gibson does the honors of cutting our cake!