Having Problems finding your favorite "Artifact Collector" the perfect gift?
Give them a "Gift Certificate" from Penbrandt Prehistoric Artifacts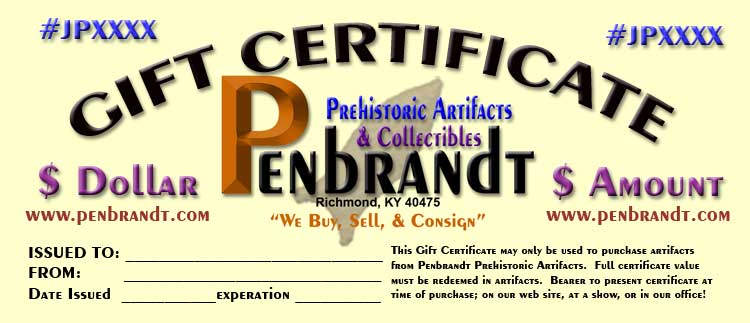 All you have to do is contact us and let us know the denomination you would like. We will issue a custom Gift Certificate for that amount in the name of the person that you wish to give it to.
That way, they can pick out the artifact that is "just right" for them!
All Penbrandt Prehistoric Artifacts Gift Certificates are good for 90 Days from date of Issue.
(with a 3 day grace period for mailing)
Don't delay, get that special someone a Gift Certificate Now!
Email Us about Details.
(Please include your contact information so we can reach you)
As stated before, all Penbrandt Gift Certificates are good for 90 Days from the Date of Issue which will be printed on each Custom Gift Certificate!