*** Updates ***

We want to extend our appreciation to all who reguarly visit our Website ! We are both getting back on our feet after some serious personal health issues and surviving Covid-19. We have just added several Investment Grade Artifacts to our Website Including one of the Largest know examples of a Lost Lake and hope to be able to offer more soon. Again, we appreciate our loyal visitors, so check them out and stay tuned for another update soon!

We want to thank everyone who visits our website. We appreciate your loyalty! There are new items in all flint sections and a BIG update to our Mississippian and Woodland sections. We recently added a few Pottery Pieces and a nice update to the Hardstone & Slate, Bone, & Shell sections. We are also moving out some older stock, so look for special " PRICE REDUCED " items on many of the pages!

Flint: Paleo pgs 1-2 (6-12-2022), Archaic pgs 1-9 (6-12-2022), Woodland pgs 1-3 (6-12-2022), Mississippian pgs 1-2 (6-12-2022), Slate & Bone pgs 1-2 (6-12-2022) Hardstone pgs 1-2 (6-12-2022), Pottery (1-15-2022), Archives Section (4-22-2021),Collectibles; Books (1-5-2019), Miscellaneous & Advertising (12-8-18)

VIP - Stock Display (2-21-2020)

Many

of these artifacts have never been offered for sale before.

We have offered an Outstanding Selection of Kirks & San Patrice points! A couple of exceptional White Springs found on the

Anderson Site! There is also one left that is published in "Ancient Indian Artifacts" by Jim Bennett.

We still have some Quality South Central Region pieces that we have reduced the price on.

Having Problems finding your favorite "Artifact Collector" the perfect gift? Try our Gift Certificates! Click on Certificate for details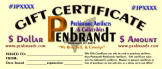 (***click here for details on the upcoming events***)
About Penbrandt Prehistoric Artifacts & Collectibles
You will find our Pre-historic Artifacts are pieces mainly from the East Central part of the United States. This is the region where I have collected for over 35 years and for which I have more expertise of the Lithic's and Typology.
Our Collectibles will have offerings that cover a broad spectrum of collecting interests, from Coins & Comics to Primitives and Pottery. On occasion, some of our items will complement Prehistoric Artifact collecting.
We hope that you enjoy your visit to our web site.
We look forward to hearing from you.
Monty & Jewdy Pennington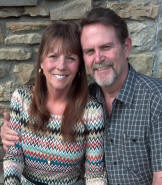 Co-Founder AFACA - Appalachian Foothills Artifact Collectors Association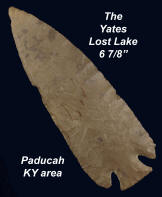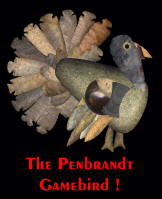 Penbrandt Prehistoric Artifacts & Collectibles!

If you are visiting our site for the 1st time, let us introduce ourselves. We are Monty & Jewdy Pennington of Richmond Kentucky, which is located at the base of the Appalachian Foothills.

I started collecting prehistoric artifacts in 1967 while working on our family farm and others in the community. Growing up in the antique business my collecting interest naturally spread to other areas. So you will find a section on our web that will offer a wide range of other collectibles as well as our good, authentic, prehistoric artifacts. Don't be afraid to make us an offer on a piece!

We are members of Arrowpack.Com & the BeAwareBoard - (PREMIER SITE FOR THE COLLECTION OF INDIAN ARTIFACTS AND THE PREVENTION OF ARTIFACT FRAUD), the AACA -Authentic Artifact Collectors Association, the GRAS - Green River Archaeological Society, CSAS-Central States Archaeological Societies, NAACA - Native American Artifact Collectors Association, & Co-founder in 2003 of the AFACA - Appalachian Foothills Artifact Collectors Association, of which I am very proud!

We offer only AUTHENTIC artifacts for sale here on our web site and on e-Bay under "penbrandt", where we have been a member since January of 1999.